10 Easy Springtime Hacks for Busy Dog Parents

Spring has sprung and that means both dogs and humans eagerly spend longer days together outdoors! So, when it comes to cleaning up, cooking, or being prepared for an emergency, no one wants to waste precious time inside!

Here are 10 easy-peasy springtime tips to free up some precious minutes so pooch and parent can spend more quality time outside together in the nice weather!

1. Pre-Prepare Meal Portions.
Over the weekend, divvy up your dog's individual dry food and toppings meal portions for the week into sandwich bags to have ready. Then simply pour into the dog's dish and add canned or homemade food to it at meal times.
2. Save the Date!
When using only a partial container of food or add-ins (i.e. yogurt, bone broth, etc.), be sure to use a permanent marker to put the date it was opened on the container. This way, there will be no second-guessing if it is still fresh and good to use, and not past the expiration date.
3. Divvy Up Meds & Supplements for the Week.
Purchase a weekly vitamin and pill organizer (reasonably priced at a pharmacy or dollar store) and split up meds and vitamins according to daily AM/PM doses to have all ready to go when needed. An extra little hack is to set an alarm reminder on your cell phone to alert you to scheduled medications so you never miss a dose time.
4. Recycle Medication Bottles.
Keep a small basket or used gift bag to hold the empty containers of your dog's prescriptions. When the container is full, return them to your vet's office for recycling! (Always check with your vet ahead of time if they accept them).
5. Deep Clean Those Dog Dishes.
In the morning, after the dogs are fed, and before rushing off to drop human kiddos off at school and get yourself to work, you can deep clean the dog dishes! How? Simply by filling them with hot, pet-friendly soapy water and letting them soak until you are back home to rinse them off. Tip: Always use stainless steel bowls! Plastic and ceramic bowls can be a breeding ground for bacteria.
6. Where are the Leashes?!
Have you ever taken your furry companion out for a walk, came back home, and somehow the house gremlin stole it, hid it, never to be found again (or at least just long enough to have you tear your house apart looking for it)? A great solution is to save a peg on the family coat rack or install a hook by the door to hang the leashes on so they can be easily found!
7. Wipe Your Muddy Paws!
With the April showers arriving to bring May flowers, mud is also a dirty companion. And, oh, how our furry best friends sure do love to play and dig in the dirt! To help keep your house from looking like a mud puddle, toss a durable throw rug by the door and help your dog wipe his paws off! Also helpful is to keep a box of bath wipes nearby and give your dog's four paws a quick swipe before coming in.
Worried about a muddy car? An easy fix is to get a seat cover or cargo liner! 4Knines durable seat covers and cargo liners install in less than a minute and are easy to hose off or wipe down when your adventure gets a little messy.

8. Update Tags!
Spring is a great time to be sure all ID, licenses, and microchip tags are current, and fees have been paid. Also, verify that the information on file at all places (microchip company, municipal dog license office, and vet's office) is up-to-date with your current address and contact information.
9. ICE is Nice!
And I'm not talking about the chilly kind from the fridge! ICE – or "In Case of Emergency" is the acronym to put before your emergency contact's name in your cell phone so if you should find yourself in an emergency situation, and you can't get home or make a call yourself, your contacts can be scrolled through to easily locate your emergency person. How to list it? Simple: ICE Mom or ICE Jane Doe is how the listing should read.
10. Download the ASPCA Mobile App!
The ASPCA mobile app gives you important information for your pet at your fingertips. It also gives you immediate access to list your pet if lost, including a digital flyer template, as well loss prevention tips, disaster and severe weather information to help plan for a crisis situation with your pet, and a section to keep your pet's medical records. They also have an Animal Poison by ASPCA mobile app that lists toxic foods and plants for dogs, cats, birds, and horses. And in case of emergency, a one-touch direct line to their Animal Poison Control Center. (Both apps are FREE to download. A Fee may apply for a Poison Control Consultation).
With a little pre-planning, we can all get outside and enjoy the lovely weather together with our furry bestfriends! Happy Spring!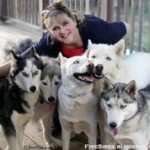 Dorothy Wills-Raftery
Dorothy Wills-Raftery is an award-winning photojournalist and author of
EPIC Dog Tales: Heartfelt Stories About Amazing Dogs Living & Loving Life With Canine Epilepsy
; the FiveSibes™ Tales children's books:
What's Wrong With Gibson? Learning About K-9 Epilepsy
and
Getting Healthy With Harley: Learning About Health & Fitness
; and
Buddy, the Christmas Husky~Based On A True Holiday Miracle books
(
ArcticHouse Publishing
), as well as the
FiveSibes.com
, an online encyclopedia for the Siberian Husky breed and Canine Epilepsy information, as well as her international award-winning
FiveSibes blog
, based on the lives of her five Siberian Huskies. Her work has also appeared in American Pet Magazine, Ruff Drafts, The Sled Dogger, and Hudson Valley Paw Print Magazine. Dorothy is the writer and host of
"The Sibe Vibe" Dog Works Radio show
.
Dorothy is a 9-time Dog Writers of America Association "Excellence" nominee, winning the prestigious Maxwell Medallion in 2017 and 2016 for her writing, photography, and design. Her book
EPIC Dog Tales: Heartfelt Stories About Amazing Dogs Living & Loving Life With Canine Epilepsy
received the 2018 Independent Press Award for "Excellence" in the Reference Book category and 2017 NYC Big Book Award for "Excellence" in the Animal/Pet book category. Dorothy was also named "Best Author" in 2015 & 2016 by
Hudson Valley Magazine
and all four books named "Best in Print" by
American Pet Magazine
, An official International Purple Day® for Epilepsy Ambassador since 2012 and a volunteer case manager for The Wally Foundation-Canine Epilepsy, Dorothy is the creator of the FiveSibes
#LiveGibStrong K-9 Epilepsy Awareness
campaign and partnered with The Anita Kaufmann Foundation for
#Paws4Purple Project
, both inspired by her own epileptic Husky, Gibson. In addition to her Siberian Huskies, Dorothy shares her home­ with her husband, daughter, son-in-law, and grandson. You can follow Dorothy and her FiveSibes on Facebook at
FiveSibes: Siberian Husky K9 News & Reviews
, on
Google
+
,
Twitter
, and
Instagram
(@FiveSibesMom).
:|zpendofcontent|: