6 Key Steps When Training Your Dog With a Harness

Training your canine friend to walk with a harness need not be a painful process - physically for your dog or mentally for you - if you follow these 6 simple steps:

Get the Right Equipment

Make your life considerably easier, and the experience infinitely more comfortable for your dog, by using a no-pull harness when training. These specifically-designed training aids are made to stop choking and also prevent your arm getting pulled out of its socket by an over-enthusiastic walking companion. A no-pull harness is an essential piece of kit when seeking to train your dog to walk alongside you and should be employed with some of the other steps on this list.
Use a Treat/Reward System

Like training your dog to perform any task, use a treat system that lets your dog know that they are doing a great job. Learning to walk with a harness is no different, and using the no-pull harness/treat combo is the most effective and quickest means to get your dog into great harness habits. Use strong commands to stop your dog trying to pull away on the lead, and feed him or her a treat every time they obey. Similarly, employ stop and sit commands to let your dog know that you are very much in control when the harness is connected.
Associate the Leash With Feeding Time

A good tactic is to connect the leash while your dog is eating, which reinforces that the lead is a positive experience. It's also a good idea to take your dog out after he or she has eaten, as a hungry dog can be a disobedient one at times.
Once the harness and leash have been connected, let it hang while dinner is finished off, and then step out. Cultivate these types of habits and your dog will soon be on board.
Use Standard Commands

Whether you use words such as 'yes' or click your teeth, it is important that you develop familiar sounds that you use in conjunction with the techniques you are using. More on the techniques in a moment, but you can practice calling your dog in the house and employ a treat system for when he or she responds. Ideally, you want a sound which calls your dog over to you immediately, and so using standard calls is much recommended.
Use Guaranteed Techniques

When training, there are a number of tried-and-tested techniques which have been proven to effectively train dogs to walk with leads. One of the most well-known is to turn and walk in the other direction if your dog tries to pull. This informs your dog that this type of behaviour will not be tolerated and he or she will soon learn to give up this bad habit. Employ a treat system as previously mentioned to reward good behaviour, and the training process will be an enjoyable experience, and one with a fruitful conclusion.
Practise Makes Perfect

There is no substitute for time spent on the harness, and this can be done anywhere –in the house and in your garden, for example. Start your dog young too so it becomes a familiar part of your routine together – dogs respond well to repeated tasks that breeds familiarity. Get plenty of practice and your dog will be walking confidently and obediently on his or her harness in next to no time.
So that's it! 6 easy steps to training your dog to become the perfect walking companion that won't run afoul of any harness laws.
And don't forget… When you're headed out for some fun and to show off your new walking skills, be sure to install your 4Knines seat cover to protect your seats from any mess your adventure throws at you.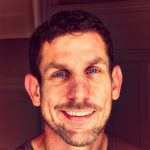 Micahel Dehoyos
Web developer and dog lover Micahel Dehoyos is usually found assisting organizations in their digital marketing approach, when he's not out walking his beloved animals. He is an editor at PHDKingdom and NextCoursework, as well as a regular contributor to a number of other blogs and info sites, including the academic service provider Originwritings.
:|zpendofcontent|: