8 Important Halloween Safety Tips for Dogs

Halloween can be a truly frightening day for our pets. With all of the chaos and darkness looming, there are many dangers of not looking after your dog on this spooky holiday.

In preparation for Halloween this year, here are some tips to ensure your dog will be safe and comfortable!
1. Up to Date ID Information
Many dogs get lost or run away on Halloween. The sounds and commotion might scare them into running away, or perhaps they run out the door when you open it for trick-or-treaters. It is extremely important to make sure that your pets have up to date information on their microchip registration and collar tags. If your dog doesn't typically wear a collar around the house, put one on for Halloween. For both the tags and microchip, make sure that both your address and phone number are current!

2. Candy
Most people know how harmful chocolate can be to dogs. It can even be fatal. On Halloween, there are all sorts of candies floating around. Whether you have kids trick-or-treating or you're handing out candy, it's important that all candy is out of reach of the dogs. Explain to your kids how dangerous candy is for dogs and that is should not be shared. Be careful of candy laying on the floor or on a low table.
3. The Doorbell
It's safe to say that a majority of dogs bark when the doorbell rings. They may get frightened or bark all night as the doorbell rings from kids who are trick-or-treating. Consider putting your dog in a safe place like a kennel or bedroom with the TV on. Distractions like chew bones or toys can be comforting whether you put your dog in a kennel or room. You don't want your dog to bolt out the front door or have extreme anxiety.
4. Children
Dogs can be afraid of children, especially if they are dressed in unfamiliar outfits. There may be a lot of kids showing up at your house on Halloween night. Be wary of your dog's fear and put them in a safe place if you have to. You don't want to put your dog's or a child's safety at risk.

5. Black Cats
Unfortunately, some people use Halloween as an excuse to commit heinous crimes and get involved in cruel activities. If you own a black cat, please keep them inside and consider putting them in a bedroom for Halloween evening.
6. Walking at Night
If you take your dog trick-or-treating around the neighborhood, be sure they won't be easily startled by all of the noises, people and decorations. If they get scared in these types of situations, leave your dog at home. If you do take your dog out, use a light-up collar or leash to make sure your pup is easily visible.
7. Costumes
A lot of dogs do not appreciate you dressing them up! I know it's adorable to put your dog in a super cute Halloween costume, but if it causes your dog anxiety, don't make your dog wear it all night. If there are children around, make sure they refrain from dressing the dog, as there are strangulation hazards with clothing if not put on properly.
8. Exercise Your Dog
Take a long midday walk with your dog before Halloween evening rolls around. Play a lot of fetch or give your dog extra exercise so they will be more tired as the day goes on. They will be less likely to be really energetic or anxious if they had a fun, busy day.
Have a happy howl-o-ween!!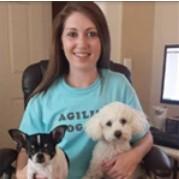 Amanda Yantos
Amanda Yantos is the creator and author of Dog Mom Days, a blog in which she chronicles the daily life of being a dog mom. The blog was founded in December 2013 when Amanda realized that blogging would make a great hobby! Although she was not expecting her blog to grow so quickly, Amanda was working with several pet brands and was nominated for the BlogPaws Best New Pet Blog Nose-to-Nose award by March 2015. She is now a full-time pet blogger, online marketing director for a luxury pet boarding facility and stay at home dog mom! Dog Mom Days has been featured in Valley Lifestyles Magazine, AZ Family Channel 3 news and two local newspapers.
:|zpendofcontent|: