It has taken some time, but
pet therapy is becoming more popular
every week. The
cognitive, physical and emotional values pet visits
bring about have enormous worth in terms of emotional and social benefits.
Five years ago you would not have found dogs in court to help through a difficult testimony, or available to ease your tension and apprehension before boarding a plane, present in emergency rooms to calm ER patients or on college campuses to de-stress students before or after a final yet these are commonplace now.
The truth is that dogs ROCK!
They can do all this and much more!
Do you know there are different types of therapy visits?
Animal-Assisted Activity (AAA)
visits are the
most popular and most common
form of therapy interaction. Owners and
pets provide informal visits
to hospitals, nursing homes, rehab centers, and mental health facilities. The animal's job is merely to provide and receive love and affection. (Not a bad job if you ask me.)
Animal-Assisted Therapy (AAT)
is a different kind of visit in that
animals are assigned specific tasks
to help achieve a range of motion, motor control or regain
pet care skills
before patients return home to care for their own pets.
The
animals work in conjunction with physical and occupational therapists
or healthcare professionals who monitor the progress of each patient during each visit.
Providing pet therapy, whether it is AAA or AAT, is an
incredibly rewarding activity.
I discovered pet therapy years ago after moving to Georgia with my Golden Retriever who coincidentally was named 'Georgia.' She was a loving, happy dog and I wanted to find some way to share her with others. My research pointed to pet therapy but at her age of 7, I was concerned she may be too old for obedience training, testing and the requirements of becoming a working therapy team.
I decided to put my concerns aside and enrolled us in basic
obedience training
(even though she was so obedient I knew we'd show the trainers a thing or two), attended volunteer orientation and set my appointment for
pet testing.
The more I read about the benefits of
providing pet therapy,
the more I wanted desperately to do this with her. In my mind, I simply could not deny the world the
unconditional love
of this magnificent dog!
Our
pet therapy organization encourages new teams
to try a variety of facilities to see what you and your pet enjoy most. I pushed back stating Georgia would not like visits with children because she had never been around children. Guess what… I was wrong again. These were her favorite visits! It was obvious by her huge Golden smile and constantly wagging tail. This girl
taught a young boy not to be afraid of dogs and helped another student through a seizure.
My current
therapy dog
is providing countless hours of de-stressing on college campuses, visiting nursing homes and doing many special visits. She even gave a young girl the courage to share her story of abuse.
I have given you a hint at what is required to become a
pet therapy
team. With any animal,
temperament is the key.
Does your pet enjoy meeting people?
Is his/her demeanor calm, focused on you when needed and does he/she enjoy being with others?
Obedience commands can be taught, but temperament and the willingness to visit with people is something inherent in personality.
Many trainers now offer pet therapy,
as I do through Best Buddies Dog Training, but
my approach is slightly different.
Once a client graduates obedience training and expresses interest in
pet therapy training,
I schedule the training they need. I evaluate each client on a case-by-case, class-by-class basis and find many dogs only need a brush-up on manners, a field trip and maybe a mock test to help them prepare.
If you want to
do something AMAZING with your dog
(cat or rabbit) that will make you smile from the inside out and make someone's day, I highly recommend
pet therapy visits.
There are several pet therapy organizations welcoming new members to meet the growing need. Snoopy and I are members of
Happy Tails
pet therapy group in Atlanta.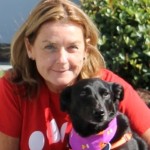 Christine Morrison
A native of Massachusetts and a resident of Georgia where I have lived since 2008 with six rescue dogs, commonly referred to as my merry band of misfits, and one husband. I am the proud owner of Best Buddies Dog Training in Hoschton, GA. When not in the training studio, you'll find me in a nursing home, hospital or special needs class with my certified pet therapy dog or recruiting for my pet therapy organization, Happy Tails. I also spend a great deal of time researching the latest information on dog food, health and training techniques and volunteering with local rescues. I have written stories to contribute to Titan's Tales and Other Dog Adoption Love Stories and In Dogs We Trust.
:|zpendofcontent|: