IS THE COVID-19 PANDEMIC AFFECTING OUR DOGS?
By Dorothy Wills-Raftery
This has certainly been a very trying, crazy, and scary time for everyone as we all have self-quarantined at home and are still facing so many uncertainties with the pandemic known as COVID-19. While we humans adjust and readjust to instructions on how to #staysafe, especially now as foks return to work and school, is it affecting our dogs? And,
can our dogs get and/or spread the virus?
For dogs, having their beloved family members home all the time is a joy! More time to go for walks together, play, and snuggle. A dog's dream! But, what happens as the restrictions are lifted, and a dog's hu-family starts back to work, school, or other activities allowed under the pandemic guidelines?
While under the "new normal," old ways of working, attending school, and even shopping have changed. People work from home, while students' classrooms are now at home via distance learning, and shopping can be done via curbside pickup, all allowing our dogs to be a bigger part of our daily lives. How wonderful is it to have your canine companion at your side while working from home or shopping for supplies? With the kids home, it's been one big play party for our dogs!
But, now as family members are starting to return to their work places, the sudden absence in a dog's home can certainly create an upset. Dogs can develop separation anxiety, and the once content-at-being-home dog can display behaviors from whining and barking to pacing, and even destructive behaviors such as chewing.
To help your dog adjust to your return "to the real world" after so many months of being home, here are some helpful tips:
Paws were made for walking!
Even if you can't pop home to walk your dog in the middle of the day, be sure to have a nice walk before and after you come home. Allow yourself time so the walk is relaxed, and not rushed. Ply your pup with lots of attention! And maybe you can ask a trusted family member, friend, or neighbor to take your dog out for a midday walk.

Let's play ball!
When you are home, head outside and engage in some fun dog play, such as an energetic game of Fetch! A tired dog is a happy dog! Brain power! A good source of mental stimulation for dogs are puzzles! So when you get home from work, break out a puzzle or two. Nothing spells fun like hunting out treats in a maze with a dog's human!

Just a little shutterbug!
If you are working or studying from home, what a great time to take some photos of your dog doing things s/he loves to do—running through that sprinkler, rolling on the grass, giving you smooches, and catching that Frisbee! Today's moments become tomorrow's memories!

What's that song?
Music can be a great friend to your dog who suddenly finds himself alone. Make a dog-friendly playlist (classical music tops the list in calming shelter dogs) that you can set up through your smart TV, or even set a music channel on the radio or television to fill the house with friendly, soothing sounds. (My Huskies enjoy the weather channel as it has it all—talking and music)!

Keeping calm.
If it seems your dog is not happy with the sudden change, check with your veterinarian about calming aids. There are some great pheromone sprays and plug-ins, as well as natural calming products ranging from a fitted shirt to an herbal oral spray, CBD or full-spectrum hemp-infused treats, oils, and capsules, and even some diffused essential oils (note: always check with vet as some oils can be a trigger for a dog with seizures). If nothing works, your vet can also recommend a prescription anti-anxiety medication.

Keeping close while #SocialDistancing.
Naturally, our dogs won't be wearing masks, but these days it is a good practice to limit human-dog contact with others who do not reside in your home. Instead, take your dog outside to meet folks while #socialdistancing. Just nicely request others to not kiss your dog, as the Center for Disease Control (CDC) has stated that, "We are still learning about this virus, but it appears that it can spread from people to animals in some situations."

Feeling under the weather?
If you need to self-quarantine, use common sense when caring for your dog by keeping a distance, no kisses, and always wash and disinfect your hands before and after handling your dog's items! "More studies are needed to understand if and how different animals could be affected by COVID-19," states the CDC.

Can our dogs get and/or spread Covid-19?
According to the CDC, "Based on the limited information available to date, the risk of animals spreading COVID-19 to people is considered to be low. A small number of pets worldwide, including cats and dogs, have been reported to be infected with the virus that causes COVID-19, mostly after close contact with people with COVID-19."

Most recently, a 7-year-old German Shepherd named "Buddy" from Staten Island, NY who, according to National Geographic, "became the first dog in the United States to be confirmed positive for SARS-CoV-2, the coronavirus that causes COVID-19," has passed away. "Even though the German shepherd likely had cancer, his health records show how little we know about animals and the coronavirus."

So, until more is known about this new virus, and how we can beat it, always err on the side of caution for both you and your dog. Together, we can do this, and #StaySafe.

Questions? Check with your dog's vet and refer to the Center for Disease Control (CDS) website for any and all updates for both humans and animals!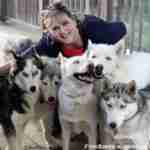 Dorothy Wills-Raftery is an award-winning photojournalist and author of EPIC Dog Tales: Heartfelt Stories About Amazing Dogs Living & Loving Life With Canine Epilepsy; the FiveSibes™ Tales children's books: What's Wrong With Gibson? Learning About K-9 Epilepsy and Getting Healthy With Harley: Learning About Health & Fitness; and Buddy, the Christmas Husky~Based On A True Holiday Miracle books (ArcticHouse Publishing), as well as the FiveSibes.com, an online encyclopedia for the Siberian Husky breed and Canine Epilepsy information, as well as her international award-winning FiveSibes blog, based on the lives of her five Siberian Huskies. Her work has also appeared in AmericanPet Magazine, Ruff Drafts, The Sled Dogger, and Hudson Valley Paw Print Magazine. Dorothy is the writer and host of her award-winning "The Sibe Vibe" Dog Works Radio show.
Dorothy is an 11-time Dog Writers of America Association "Excellence" nominee, winning the prestigious Maxwell Medallion in 2019, 2017, and 2016 for her writing, photography, and design. Her book EPIC Dog Tales: Heartfelt Stories About Amazing Dogs Living & Loving Life With Canine Epilepsy received the 2018 Independent Press Award for "Excellence" in the Reference Book category and 2017 NYC Big Book Award for "Excellence" in the Animal/Pet book category. Dorothy was also named "Best Author" in 2015 & 2016 by Hudson Valley Magazine and all four books named "Best in Print" by American Pet Magazine, An official International Purple Day® for Epilepsy Ambassador since 2012 and a volunteer case manager for The Wally Foundation-Canine Epilepsy, Dorothy is the creator of the #FiveSibes #LiveGibStrong K-9 Epilepsy Awareness campaign and partnered with The Anita Kaufmann Foundation for #Paws4Purple Project, both inspired by her own epileptic Husky, Gibson. In addition to her Siberian Huskies, Dorothy shares her home with her husband, daughter, son-in-law, grandson, and granddaughter. You can follow Dorothy and her FiveSibes on Facebook at FiveSibes: Siberian Husky K9 News & Reviews, on Twitter and Instagram (@FiveSibesMom).