March 13 is K9 Veterans Day:
Honoring Our Military Working Dogs
By Dorothy Wills-Raftery
"When we pause to remember our heroes, let us also remember our heroes with paws."
~ Barbara Snow, Executive Director,
U.S. War Dogs Association Chapter 2, Bronson, Florida
K9 Veterans Day is observed annually on March 13th, and according to Military.com it is a day "to honor and commemorate the service and sacrifices of American military and working dogs throughout history." The idea for this day of honor originally came about when a retired military working dog trainer named Joseph Wright believed there should be recognition for dogs who serve in military, law enforcement and other capacities.
"There are currently more than 1,600 dogs deployed on active duty today," states the American-Humane. "Military working dogs have been an integral part of service in the United States since the nation's founding."
Why is K9 Veterans Day on March 13th?
According to the United States Army, in "January 1942, members of the American Kennel Club and other dog lovers formed a civilian organization in January of 1942 called Dogs for Defense" with the intention of training canines to perform sentry duty for the Army along the U.S. coast and at supply depots. Approval was given for an experimental program, and on March 13, 1942, the Army's K-9 Corps was born.
What are the Military Working Dog (MWD) Breeds?
While the Belgium Malinois and German Shepherd are often the most recognized MWDs, other breeds were instrumental throughout history as well. According to History.com, "The K-9 Corps initially accepted over 30 breeds of dogs, but the list was soon narrowed to seven: German Shepherds, Belgian sheep dogs, Doberman Pinschers, Collies, Siberian Huskies, Malamutes, and Eskimo dogs....After basic obedience training, they were sent through one of four specialized programs to prepare them for work as sentry dogs, scout or patrol dogs, messenger dogs or mine-detection dogs." And while we do not often think of northern breed dogs like the Siberian Husky and their cousin the Alaskan Malamute as MWDs, during WWII, they were among the brave K9s who were able to get through rough and snowy regions as pack and/or sled dogs. A Siberian Husky named "Buck" was a War Dog Ambassador for many years, having traveled alongside his partner—dog scout handler and Vietnam veteran, Johnny Mayo. Buck is the subject of Mayo's book, Buck's Heroes.
Where are MWDs From and Trained?
According to the U.S. Department of Defense (DOD) it finds "canine recruits from breeders around the world, but a select group, about 13%, are born and bred into the U.S. Military through the DOD Military Working Dog Breeding Program. These puppies, Belgium Malinois, come from one place—the 341st Training Squadron at the Joint Base San Antonio-Lackland in Texas. At the age of one, these dogs are then "evaluated Military Working Dog Program."
Where do MWDs Work?
The MWDs are highly trained dogs that work in many aspects of duty in protection across the globe. Dogs not only works for the military, but also in other law enforcement positions as well. Working dogs perform important duties as police K9s and fire department accelerant-sniffing arson dogs, while others are trained for border patrol, tracking, explosive detection, Search and Rescue (SAR), as well as being certified as service and therapy dogs, and much more.
"Since World War I, tens of thousands of dogs have served in the United States Armed Forces alongside their handlers in K-9 units."
~The New Jersey Vietnam Veterans' Memorial Foundation/US War Dogs Memorial
Naming A Few Heroic K9 Military Veterans
There are many incredible stories of K9 MWD heroes and their brave actions have been documented online, in articles, books, and movies. Here are just three of the heroic and historic K9s to remember on this K9 Veterans Day:
🐾 Sergeant Stubby – "Stubby" was a Pit Bull mixed-breed stray dog from New Haven, Connecticut that some say was the first unofficial service dog of the United States. He had been adopted by the 102nd Infantry, 26th "Yankee" Division not only as their mascot, but as "a comrade-in-arms for the doughboys of World War I." He accompanied them to France in 1917, and according to SergeantStubbySalutes.org, "He barked warnings of incoming shells and gas attacks. He was a morale booster, whether in the trenches or, after being wounded during battle, while recovering in a military field hospital." It is also noted that "He and his inseparable companion, J. Robert Conroy…earned three service stripes after 18 months of active duty." On Christmas Day 1918, Sergeant Stubby met President Woodrow Wilson, who shook his paw, and was officially received in the White House by two other Presidents. Stubby is part of the WWI display at the Smithsonian National Museum of American History in Washington, D.C.
🐾 Chips - When WWII broke out, American families volunteered their pet dogs into the service as part of the K-9 Corps. "Chips," a Husky/German Shepherd/Collie mix of the Wren Family from Pleasantville, New York, was the first dog to ship overseas as a Military Working Dog in WWII. Overseas, he trained as a sentry dog and assigned to a military police platoon where he traveled throughout Europe, and saw fighting in Africa and Sicily. Chips served in eight campaigns, including "Operation Husky." He was lauded for his bravery in newspapers. While wounded, Chips bravely rushed in to fight enemy troops, until they surrendered. Chips even met General Eisenhower, who reportedly thanked him for his service. He was eventually retired and returned to his family in New York. Chips was posthumously awarded the PDSA Dickin Medal for canine bravery. There has been a book, comic strip, and movie about this brave dog.
🐾 Cairo – Cairo, a Belgian Malinois who became a famous 21st Century Navy SEAL MWD. He was partnered with SEAL Team Operator and military dog handler, Will Chesney. In 2009, he was on a mission when he suffered life-threatening injuries after a firefight, which required immediate veterinary care. Then, after recovering and rehabilitating from his injuries, he rejoined his handler in 2011, when they embarked upon a secret (now well-known) mission where he rode with his handler Chesney and other SEALS in a Black Hawk helicopter and went on to help capture an enemy leader that made him a world-famous K9 hero. Chesney went on to write a book about Cairo called No Ordinary Dog.
Did You Know…?
U.S. War Dog Association Educates and Supports MWDs
The U.S. War Dog Association's mission "To provide a lifetime of support of Military Working Dogs and promote the distinguished history of their invaluable service." This mission includes sending care packages to K9 teams currently deployed, providing equipment for MWDs, recognizing retiring MWDs, facilitating healthcare and prescription programs for MWDs, and much more. For more info, visit: USWarDogs.org,
Dogs for Defense Conduct MWD Presentations
The K9 educational organization, Dogs for Defense, "Present programs on the history of MWDs, dog safety, bite prevention, and Service Dogs to organizations, clubs, schools, and businesses." For more information on these services/presentations, visit DFDK9.com.
American-Humane Supports K9 & Human Veterans
The American-Humane "is proud to recognize the heroic contributions of these brave animals on National K9 Veterans Day, and every day." This organization has offered support for over 100 years. They proudly champion efforts "to support military heroes at both ends of the leash through its Lois Pope LIFE Center for Military Affairs. The center helps reunite retired military dogs with their former handlers, provide veterans struggling with Post-Traumatic Stress with lifesaving service dogs, arranges free veterinary care for retired four-legged service members, and drives legislation that supports military dogs and their human counterparts. In 2016, American Humane successfully lobbied for a provision to the 2016 National Defense Authorization Act (NDAA) that would ensure that military dogs are returned to American soil after their retirements."
American-Humane also recognizes and celebrates " the lifesaving contributions of the brave dogs who support our armed forces on the battlefield" with the American Humane Lois Pope LIFE K-9 Medal of Courage that… honors military dogs who demonstrated exceptional valor in serving our country." For more info, and to nominate a hero dog, visit AmericanHumane.org.
4knines Donates To A Different Canine Charity Each Month
Some featured charities include this month's AZ K9 Heroes, whose mission "is to provide an exceptional quality of life for local K9 Officers and Handlers past, present, and future." Previous charities in the 4Knines Spotlight include: Irondog K9 International, whose mission is "Striving to equip, protect, and train law enforcement K9 teams;" also the Retired Police Canine Foundation and Pilot N Paws, to name just a few. Read more about these important charities 4Knines donates to here: https://4knines.com/blogs/4knines-blog-home-page.
THANK YOU to all our American K9 heroes and their handlers – past, present, and future.
We are grateful for your service.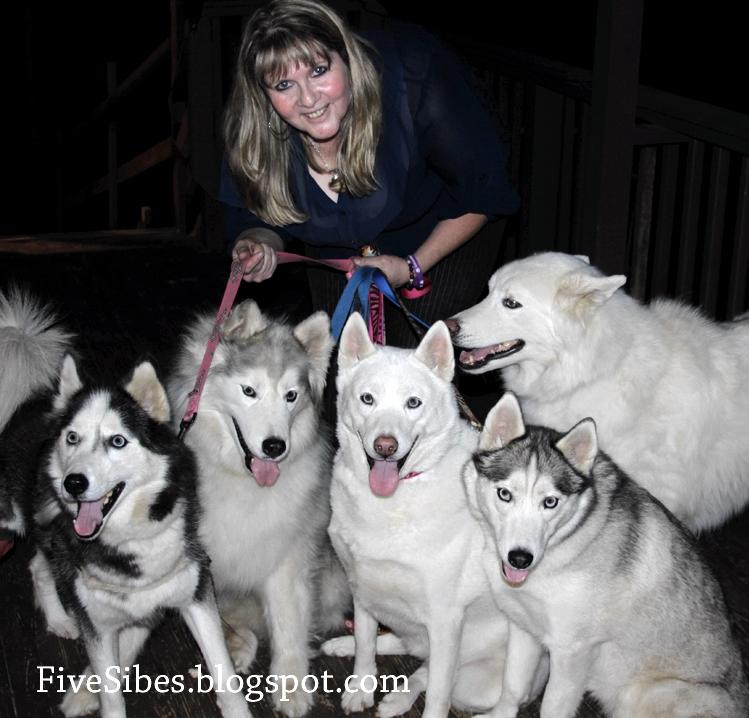 Dorothy Wills-Raftery is an award-winning photojournalist and author. Her canine books include EPIC Dog Tales: Heartfelt Stories About Amazing Dogs Living & Loving Life With Canine Epilepsy; the FiveSibes™ Tales children's books: What's Wrong With Gibson? Learning About K-9 Epilepsy and Getting Healthy With Harley; and Buddy, the Christmas Husky~Based On A True Holiday Miracle (ArcticHouse Publishing). Her internationally top blogsite is FiveSibes™ , based on her five Siberian Huskies, and includes an online encyclopedia for the Siberian Husky breed.
Her work has also appeared in Chicken Soup for the Soul & Rosie the Riveter book series, Woman's World Magazine, AmericanPet Magazine, American Dog Media, Ruff Drafts, The Sled Dogger, and Hudson Valley Paw Print Magazine. Dorothy has been awarded the prestigious Maxwell Medallion by the Dog Writers of America Association for "Excellence" for her writing, photography, and fiction. Her book EPIc Dog Tales: Heartfelt Stories About Amazing Dogs Living & Loving Life With Canine Epilepsy received the Independent Press Award for "Excellence" in the Reference Book category and the NYC Big Book Award for "Excellence" in the Animal/Pet book category. She was named "Best Author" by Hudson Valley Magazine and all four of her books were named "Best in Print" by AmericanPet Magazine.
An official International Purple Day® for (K9) Epilepsy Ambassador since 2012 and a volunteer case manager for The Wally Foundation-Canine Epilepsy, Dorothy partnered with the nonprofit Purple Day® Every Day presented by The Anita Kaufmann Foundation for her #Paws4Purple initiative, and she created the #FiveSibes #LiveGibStrong K9 Epilepsy Online Resource Library—all inspired by her epileptic Siberian Husky, Gibson, in order to help other Epi-dog families find accurate information to help their Epi-dogs.
You can follow Dorothy and her FiveSibes stories on the FiveSibes™ blog and on Facebook at FiveSibes: Siberian Husky K9 News & Reviews, and on Twitter and Instagram (@FiveSibesMom).