The One Pet Item You Need to Have in the New Year!
Hint: It's Not Just For Your Dog!
Welcome 2020! With the arrival of January, many of us are taking our dogs out for excursions in the snow, or hitting the hiking trails to walk off some of that holiday cheer! In many areas snow abounds, which means wet and muddy boots, wet snow shovels, and even canisters of pet-friendly ice melt, which sometimes makes keeping the car clean and dry a difficult task! But not if you have a 4knines Cargo Liner! Having a cargo liner can not only help keep your vehicle clean, but it also gives your pets a safer, more solid footing when in the back of your car (and be sure to buckle them up for safety)!
The great thing about a 4Knines cargo liner is that it is multi-functional, and not just for pet families! The liner can help keep your car clean in many different ways – all year long! Maybe you are removing your Christmas tree and need to keep all the drying needles from spreading around your SUV. And, even though it's just January, spring is not too far off in the distance and thoughts of a blossoming garden may be dancing in your head! With a 4Knines Cargo Liner, your vehicle can be protected from dirty gardening tools, bags of mulch and fertilizer, and even new shrubs and plants.
Did You Know?
4Knines is committed to giving back to the animal community.
They donate a percentage of each sale to animal advocacy groups, so the cargo liner you purchase not only helps to protect your vehicle, it also helps animals in need!
With having five Siberian Huskies over the years, keeping the back of our SUV could be a real challenge! From fur to drool to muddy pawprints, finding the right cargo liner was so important! We needed to have one that was not complicated and that we could leave in the vehicle. We also wanted one that did not slide around and could be easily cleaned. 4Knines has not just one, but two cargo liners to suit your vehicle needs!
The 4Knines Multi-Function Split SUV Cargo Liner
This multi-functional liner design is exclusive to 4Knines! The split SUV Cargo Liner makes it so convenient as it covers the cargo area and back of seats, whether your seats are up or down! "This is the only seat cover that allows you access to the middle seat belt, fold-down seats, or armrest without removing the cover. No other company has it!" proudly states 4Knines. So no need to remove the liner when adjusting the seats for various types of cargo or pets! The bottom is also slip-proof, which makes it perfect for transporting your canine companions, whether they are seat-buckled in or safely tucked in travel crates.
Check out this video on the 4Knines Split Cargo Liner:
4Knines Premium Dog Cargo Liner
The Premium Dog Cargo Liner is for SUVs or vans, and share many of the same great features as the 4Knines Multi-Function Split Dog Cargo Liner.
Check out this video on the 4Knines Premium Dog Cargo Liner:
Did You Know?
4Knines stand behind their products 100%. If your 4Knines® product does not work for your vehicle for any reason, you may return it for a full refund within 30 days of purchase. No hassle. No explanation needed.
Both 4Knines Cargo Liners share excellent features:
They come in THREE SIZES:

SMALL 42" x 78", LARGE 52" x 82", and XLARGE: 55" x 106" (including 20" bumper flap). Be sure to measure your vehicle for a proper fit.
They come in THREE COLORS to match the interior of your vehicle:

Black, Gray, and Tan.

They are HEAVY-DUTY

– The liners are colorfast and free of AZO dyes and heavy chemicals like lead, arsenic, or mercury.

They are WATERPROOF & NON-SLIP

- Special solid waterproof layer makes the seat bottom completely waterproofed (seams, stitching, and zippers are not watertight).

THEY ARE BOTH EASY TO INSTALL

- Installs in seconds with quick-release clips. Check out Jim's installation video!

EASY TO CLEAN

- Hose it down, wipe down with a moist towel, or toss it in the washer to keep it looking fresh and clean.
Get Your Choice of 4Knines Cargo Liner Today!
To read more about the 4Knines CargoLiners, including fit guide, prices, and ordering info, visit HERE today!
So with the dawn of a shiny new year comes excitement for all of the upcoming seasons filled with fun projects and activities, and many adventures with your dog. With a 4Knines Cargo Liner installed, you can keep your vehicle clean while doing them all!
Happy New Year!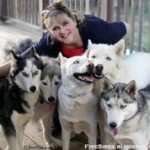 Dorothy Wills-Raftery
Dorothy Wills-Raftery is an award-winning photojournalist and author of
EPIC Dog Tales: Heartfelt Stories About Amazing Dogs Living & Loving Life With Canine Epilepsy
; the FiveSibes™ Tales children's books:
What's Wrong With Gibson? Learning About K-9 Epilepsy
and
Getting Healthy With Harley: Learning About Health & Fitness
; and
Buddy, the Christmas Husky~Based On A True Holiday Miracle books
(
ArcticHouse Publishing
), as well as the
FiveSibes.com
, an online encyclopedia for the Siberian Husky breed and Canine Epilepsy information, as well as her international award-winning
FiveSibes blog
, based on the lives of her five Siberian Huskies. Her work has also appeared in American Pet Magazine, Ruff Drafts, The Sled Dogger, and Hudson Valley Paw Print Magazine. Dorothy is the writer and host of
"The Sibe Vibe" Dog Works Radio show
.
Dorothy is a 9-time Dog Writers of America Association "Excellence" nominee, winning the prestigious Maxwell Medallion in 2017 and 2016 for her writing, photography, and design. Her book
EPIC Dog Tales: Heartfelt Stories About Amazing Dogs Living & Loving Life With Canine Epilepsy
received the 2018 Independent Press Award for "Excellence" in the Reference Book category and 2017 NYC Big Book Award for "Excellence" in the Animal/Pet book category. Dorothy was also named "Best Author" in 2015 & 2016 by
Hudson Valley Magazine
and all four books named "Best in Print" by
American Pet Magazine
, An official International Purple Day® for Epilepsy Ambassador since 2012 and a volunteer case manager for The Wally Foundation-Canine Epilepsy, Dorothy is the creator of the FiveSibes
#LiveGibStrong K-9 Epilepsy Awareness
campaign and partnered with The Anita Kaufmann Foundation for
#Paws4Purple Project
, both inspired by her own epileptic Husky, Gibson. In addition to her Siberian Huskies, Dorothy shares her home­ with her husband, daughter, son-in-law, and grandson. You can follow Dorothy and her FiveSibes on Facebook at
FiveSibes: Siberian Husky K9 News & Reviews
, on
Google
+
,
Twitter
, and
Instagram
(@FiveSibesMom).