I saw something very profound the other day, in a meme nonetheless. It was a picture of a very scared dog, eyes wide open, ears pinned back, his body rigid, and his teeth showing. The caption read
"your reactive Dog is not giving you a hard time, your reactive dog is having a hard time"
.... Let's talk about that statement because It resonated with me as I'm sure some of you.
Seven years ago a little chihuahua came into my life, appropriately named Monster. Having grown up with golden retrievers and pit bulls I had no clue what do do with this "little dog". While Monster was a sweet boy at home with my dog and my cat he was going to get himself killed with the way he behaved out of our home. I loathed walks because I was the girl yelling from a distance
how sweet my dog is
and that he's just doing that "chihuahua" thing as he's
lunging, growling and obsessively barking
. I became the person who made excuses for my
dog's undesired behavior
and enough was enough.
Here we are 6 yrs later and I can't believe who this dog is today.
So what changed? How did Monster go from a dog that attacked (or tried to) every person, dog, car, or anything that came within twenty feet of us, to the calm, sweet, funny boy I knew him to be at home?
What changed was me
and how I treated Monster,
I stopped letting him train me
. I had to remember that he is not human and does not understand the world I've brought him into. Imagine everyday
being forced to face your greatest fear without freaking out
.
It would be very difficult to do, yet we ask this of our dogs?
Through
training and building a bond with your dog
, they learn to trust you and therefore
relax and just be "dogs."
Providing our dogs with the
proper guidance
and structure, along with the food, love and snuggles they require will help you and your dog have a better life. Let's face it,
our dogs do not always make the best decisions so let's not make them have to choose
. Take lead and your dog will follow!
Now, how does one train their dog?
That is not advice that can be given via a text or over the phone without properly evaluating the dog, but I can make a suggestion. If you are that person who has a bunch of excuses as to why your dog behaves in an undesirable manner at times, or can't have people over for fear of your dog, then
start training
.
Do you want to be able to enjoy those walks with your dog and take them to your kids' soccer games? Then, start training. If you are unsure how to get started please call a professional dog trainer to help you have the relationship you've always desired with your dog. I have much more fun showing off monsters tricks and beautiful smile when we go out then having to explain why he is so reactive. I can also take Monster anywhere and the only thing I fear now is someone stealing him because he's so adorable and friendly. Most of all training gave me
this little guy who is not frightened anymore because he can trust in me to guide him safely in the world around him
. Monster will never be perfect and neither will I, but I always look forward to the growth we make together.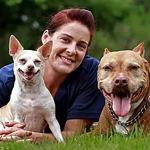 Allison Dunne
Allison Dunne was born and raised in Miami Beach, FL. Growing up she had a love for animals which was apparent by her compassion for the cities uncared for and abandoned strays. (She feed everything that follows her home) While her parents did not discourage this they did, however, draw the line when they found a skunk sleeping in the cat's litter box. It was only fitting as an adult she became a Fireman enabling her to help people and animals on a much larger scale. During her time in the fire service, she was chosen to help in the rescue effort after the devastating earthquake in Haiti. Upon returning from her deployment, Allison wanted to learn how to train search and rescue dogs. In her quest to do so, she noticed a trend in rescue groups as well as people abandoning their pets. There was an alarming rate of how many dogs were being taken to shelters and euthanized. Allison's mission shifted drastically once she realized this tragedy. She made the decision to retire from the Fire Service in 2015 to further her quest to help people have better more loving relationships with their furry friends by starting Dunne Right Dog Training. Today Allison along with her sidekicks Ruby and Monster are sharing their knowledge and passion for keeping these loving dogs in their happy homes furever.